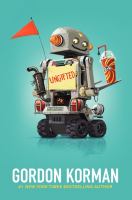 Book list
From Booklist, Copyright © American Library Association. Used with permission.

Korman's novel follows the strange journey of Donovan Curtis, a prankster whose latest escapade does unintended but colossal damage to the Hardcastle Middle School gym and lands him in the beleaguered school superintendent's office. There he is miraculously misassigned to the district's gifted school, where this average student is determined to stay, hiding out from the administration and the retribution he fears. Meanwhile, Donovan makes a place for himself on the school's robotics team and begins to see his gifted classmates in a new light. Similar to the approach used in Schooled (2007), here Korman tells the story vividly through a rotating series of first-person narrators, including Donovan, his classmates, his teachers, his sister, and the superintendent. The narrator's name and IQ appears below each chapter's title. While some stereotypes are upended and there are plenty of issues to ponder along the way, many readers will simply enjoy following Donovan's story as it unfolds. From its lovable-robot jacket art to its satisfying conclusion, this will please Korman's fans and win him new ones.--Phelan, Carolyn Copyright 2010 Booklist
---
Publishers Weekly
(c) Copyright PWxyz, LLC. All rights reserved

Too much homogeneity is never a good thing. In this funny and insightful middle-grade novel from Korman (Pop), eighth-grader Donovan Curtis is a reckless boy with "poor impulse control," whose classmates have voted him "Most Likely to Wind Up in Jail." After Donovan's gift for chaos causes an especially costly accident at school, a paperwork mix-up sees him transferred to his town's Academy for Scholastic Distinction, instead of being expelled. Donovan is woefully out of place among the ASD's young geniuses and scholars, but his normality proves something his new classmates desperately need: as he grows academically, the gifted kids grow socially just from being around him. Donovan, his classmates, and his teachers take turns narrating, and while Korman uses basic archetypes to start (from Donovan's goofball friends at his old school to the awkward nerds at the ASD), he gradually humanizes each of them, revealing them as complex, changing, and surprising individuals. As Donovan's classmate Chloe puts it, "The whole is greater than the sum of its parts. Especially if one of those parts is Donovan." Ages 10-up. Agent: Elizabeth Harding, Curtis Brown. (Sept.) (c) Copyright PWxyz, LLC. All rights reserved.
---
School Library Journal
(c) Copyright Library Journals LLC, a wholly owned subsidiary of Media Source, Inc. No redistribution permitted.

Gr 5-8-Donovan Curtis is an impulse-driven prankster who, at the start of Ungifted, manages to alienate both the students and faculty of his middle school. First he mocks the basketball team over the school PA system with a derisive cheer and then he whacks the school's statue of Atlas with a stick, knocking the huge globe off and sending it rolling down the hill where it smashes into the gymnasium and stops the big game. When Donovan ends up on the carpet, the district superintendent accidentally adds his name to the roll of gifted students at the Academy for Scholastic Distinction. Although he flounders at his new school, Donovan ends up humanizing a program that focuses on academic achievement and ignores the social aspects of students' success. From his first day when he startles the robotics team by naming their robot, to his saving the class from summer school by drafting his pregnant sister as the answer to a missed credit in Human Development, Donovan finds that his gift lies in helping the smart kids by teaching them how to be "normal." Using an ancestor who survived the Titanic as inspiration, Donovan has a goofy kindness that charms characters and readers alike. Reminiscent of Stanley Yelnats and Joey Pigza, he careens through life much like the out-of-control globe from Atlas's statue. The story is told from the points of view of various characters (each chapter titled with an Un-word), and readers hear from teachers and administrators, students-both gifted and not-and family members. The message is tolerance, and Korman expertly and humorously delivers it in an unpretentious and universally appealing tale.-Jane Barrer, Steinway Intermediate School, New York City (c) Copyright 2012. Library Journals LLC, a wholly owned subsidiary of Media Source, Inc. No redistribution permitted.