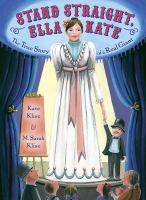 Kirkus
Copyright © Kirkus Reviews, used with permission.

Ella Kate Ewing had gigantism, a glandular disorder that gave her an adult height of 8 feet 4 inches and size 24 feet. Her story is told in the first person, recounting how troubled she was by teasing in her youth, but how she turned her condition into a jobappearing in circuses and museums and at fairsand a means to achieve independence and to help her family. She grew up in Missouri in a log cabin her father built, and the title comes from her mother's admonition as she tried to keep Ella Kate clothed properly. M. Sarah Klise's acrylic-onBristol board paintings are friendly and colorful, rendering the late-19th-century images with softly exaggerated gestures. The author's note is informative, but it does not include referencesa lamentable omission, as it makes further investigation of this fascinating subject difficult. Children will likely be captivated by both the story and Ella Kate's quiet and direct voice. (Picture book/biography. 5- 9)]] Copyright Kirkus Reviews, used with permission.
---
Horn Book
(c) Copyright The Horn Book, Inc., a wholly owned subsidiary of Media Source, Inc. No redistribution permitted.

Kate Klise assumes the voice of real-life giantess Ella Kate Ewing (b. 1872), who, at eight feet, four inches tall, achieved financial independence as a traveling-circus attraction. The story's particulars are startling, but the book's message, best expressed by its title, applies to readers of all sizes. M. Sarah Klise's capable art shows an outsize woman with heart, grit, and grace. (c) Copyright 2010. The Horn Book, Inc., a wholly owned subsidiary of Media Source, Inc. No redistribution permitted. All rights reserved.
---
Publishers Weekly
(c) Copyright PWxyz, LLC. All rights reserved

The Klise sisters (the Little Rabbit books) tell the story of Ella Kate Ewing, who turned what could have been a miserable existence into a life of dignity. Gigantism, not understood in the 19th century, made Ella a child who needed a specially made desk and wore size 12 shoes. The advice her parents gave her forms the title of the book, but Ella, 8'4" by age 22, suffered, and Kate Klise portrays her plight with sensitivity: "I was too big for the world." As a museum exhibit in Chicago, the discomfort of public display is offset by the phenomenal pay; at 18, she makes more in five months than her father's farm makes in five years. Wealth brings independence, a house, and a thirst for new experiences: "[T]he more I saw of the world, the more I wanted to see. Because as big as I was, the world was so much bigger. And I intended to see it all." M. Sarah Klise's acrylic paintings give a sense of the historical setting without drawing attention to themselves; modest colors and conventional forms echo Ella's humility. A quiet story with unexpected impact. Ages 6-8. (May) (c) Copyright PWxyz, LLC. All rights reserved
---
Book list
From Booklist, Copyright © American Library Association. Used with permission.

*Starred Review* Born in 1872 and brought up on a farm in Missouri, Ella Kate Ewing begins to grow so quickly that she soon towers over her friends. Though her parents vow to protect Ella Kate from name-calling and taunts by keeping her at home, at 18 she ventures out to earn money as a museum exhibit in Chicago. Later, Ella Kate sees the world and makes her fortune by appearing in exhibitions and circuses as THE TALLEST LADY ON EARTH. When people are cruel, she maintains her dignity by remembering her parents' admonition to Stand straight, Ella Kate. Based on the real Ella Ewing and told from her point of view, this intriguing picture book ends with a page of information about her medical condition (gigantism) and her remarkable life. Although the book's well-paced, lightly fictionalized story underscores Ella Kate's dignity and generosity, it includes many height-related incidents that will intrigue and amuse children. The acrylic paintings reflect the tone of the text while illustrating the narrative with warmth, wit, and style. The book's factual basis makes its underlying message more powerful. Readers will enjoy watching this sympathetic character gradually come to accept her unusual height and make the most of it.--Phelan, Carolyn Copyright 2010 Booklist
---
School Library Journal
(c) Copyright Library Journals LLC, a wholly owned subsidiary of Media Source, Inc. No redistribution permitted.

K-Gr 4-When she starts to grow at an alarming rate at the age of seven, no one can predict what life may have in store for Ella Kate, a country girl who becomes a "real, live giant." Self-conscious about her abnormal height, Ella hunches down to look smaller, tries unsuccessfully to place her long legs under her desk, and suffers the teasing of thoughtless classmates, feeling "too big for the world." By the time she reaches 8 feet, in 1889, 17-year-old Ella is invited to work as an attraction in a Chicago museum, and, despite her father's protective instincts, takes the offer. Thus begins a life of fame, fortune, and worldwide adventure for the girl once labeled a "freak." Told in first person, this is a delightful tale about an extraordinary young woman who embraced her difference. The story is well told in straightforward prose with lots of dialogue, and Ella's strength of character shines through. The stylized acrylic illustrations add much to the text, using bright colors and emphasizing Ella's height from various perspectives. A sepia-toned photo of the real Ella and an author's note are included. This is an excellent choice for youngsters who have ever had to deal with being different. It would also work well paired with a version of "Molly Whuppie," offering a point of comparison between the fantasy giant and the real-life Ella. Sure to be a hit.-Nancy Menaldi-Scanlan, formerly at LaSalle Academy, Providence, RI (c) Copyright 2010. Library Journals LLC, a wholly owned subsidiary of Media Source, Inc. No redistribution permitted.